MARKHAM, ON, November 13, 2018 – Ruth's Chris Steak House – Markham (www.ruthschris.ca) has opened at 170 Enterprise Blvd @ Birchmount Rd. in Downtown Markham, next to the Marriott Markham Hotel.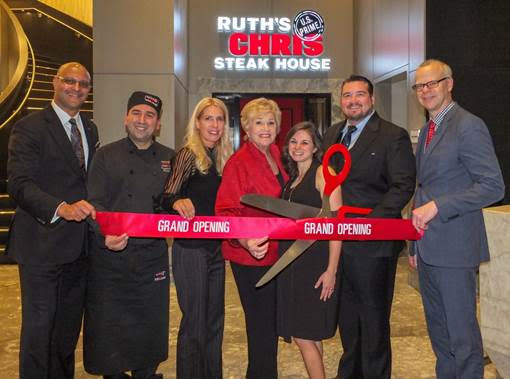 Co-Franchise Lana Duke said, "We are thrilled to be able to open in this vital community. We've been part of the Greater Toronto Area restaurant scene since 1995 where we opened the first Ruth's Chris in Canada at our downtown location in the Hilton Toronto on Adelaide St. W. Almost a year ago to the day, we moved our Mississauga restaurant to 970 Dixon Rd., across from Pearson Airport. All our venues reinforce the Ruth Fertel New Orleans tradition of sizzling steaks, fine wines and exceptional service.
"At our Grand Opening, we've continued to support the Leukemia & Lymphoma Society of Canada, and know our dinner guests demonstrated their financial support of this worthy organization," she added.

The architect and interior designer for the new 7,632 s.f. restaurant is HCA Architecture of Toronto.


Said Executive Vice President and Co-Franchisee R. David Duke, "Sophistication and comfort define the new restaurant's interior design. The revolving door entry leads guests into a curved, soft, welcoming space that cradles the reception desk. From there, the wine display hints at what lies beyond, which is an extensive lounge area where a floating bar is surrounded by comfortable seating. The dramatic bold-red, curved 15-foot-high ceiling terminates in significant glazing. During the day, the glass façade that surrounds two sides of the restaurant brings in natural light, and in the evening, emanates light to the outside, animating street life and exposing passers-by to the dining opportunities inside. For diners who enjoy being in the hub of activity, this space is perfect."


According to Harry Christakis, a principal at Toronto-based HCA Architecture, who worked on the project with interior designer Andy Gearing, "The series of spaces was well thought out. Our vision was to offer a variety of choices for diners, depending on their moods and needs. The bold colour and sense of space in this restaurant begin to make an iconic statement of the brand on this street in Downtown Markham. There is a continual sense of delight and surprise as people pass through this narrative.
"Proceeding through the restaurant, the next space features intimate banquet-style seating for more private, intimate dinners and conversations among parties of two to four. Then there is a series of private dining rooms for larger groups of friends and family or corporate functions. At the end of the sequence is the grand dining hall space with its curves, antique mirrors and hanging light fixtures reminiscent of chandeliers of the great halls of the past for a more transitional ambience."


The red hue plays a prominent role throughout, as it ties to the Ruth's Chris brand identity. "We used a similar deep red in the carpet with a grayish tone," Christakis added, "and we loved the carpet so much that we had the pattern custom-made into the vinyl installed on the wall where the banquettes are located."
He said that the interior design is largely affected by the restaurant's new location. "Remington Group designed Downtown Markham as a mixed-use community, and we are excited to be involved in a piece of this vibrant, entertaining culturally infused urban centre. We wanted to reflect that vision with an exciting series of spaces for this steak house and make them relevant to their urban surroundings. Ruth's Chris offers mouthwatering steaks, and the interior architecture and design pairs with the food like a great bottle of wine. Everything combined leaves patrons with a memorable, elevated dining experience."
R. David Duke divides his time between three locations in San Antonio and the three in the GTA. "We're delighted to open in Markham as a key location serving the north eastern quadrant of the GTA. We will uphold our simple tried-and-true recipe: fresh ingredients, classic dishes, skilled preparation and a passion for every detail of a perfect dining experience. Add to that, the gorgeous interior ambiance design of our newest Ruth's Chris, and our diners are in for a real treat."
Sara Wilde, Ruth's Chris Director of Sales and Marketing said, "This prime location in Markham is easily accessed by car and public transit. We are open for Lunch, starting November 19, 2018; Monday to Friday from 11:30am – 2:30pm, and open for Dinner 7 Days a Week: Sunday to Thursday 4:30 to 10pm; Friday and Saturday 4:30 – 10:30pm and, from 5 – 7pm, our patrons can enjoy the Sizzle, Swizzle & Swirl Bar Feature Menu. Reservations taken at www.ruthschris.ca, or call 647-794-0170."

-30-

ABOUT RUTH'S CHRIS STEAK HOUSE
Ruth's Chris Steak House was founded by Ruth Fertel 53 years ago, in New Orleans, Louisiana. Ruth Fertel had a recipe for everything – from how to prepare her signature sizzling steaks to how to treat her guests. This timeless formula is a testament to how one neighborhood eatery has become the largest collection of upscale steak houses, with 155 restaurant locations around the globe. Ruth's Chris remains true to its heritage, helping guests make their best memories on 500-degree sizzling plates.
NEWS MEDIA CONTACT:
David Eisenstadt / Selena Kovachis
tcgpr
416-696-9900 x36 / x26
deisenstadt@tcgpr.com / skovachis@tcgpr.com